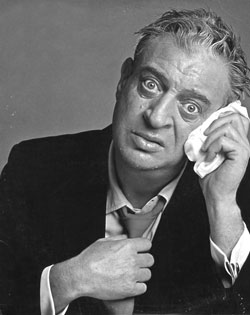 After making some progress in the reputation department, the practice of public relations has taken it on the chin of late. C.J. Gregg, Allison Janey's character on NBC's "The West Wing" was a strong role model for our industry, to the point where academia even took notice for the study of the profession. Most recently, however, MTV and the ubiquitous Lizzie Grubman, coupled with the scandals over "insidious" VNRs and journalists on the take, have thrust us back in to the realm of snake oil salesmen.
It's no wonder the public sees PR people as crass and manipulative. The downward plunge continued when the network that brought us "The West Wing" broadcast tonight's episode of NBC's "Law & Order: Criminal Intent" featuring "a pushy P.R. person," e.g. a total bitch, as a murderous villain (played by Jenna Stern). Barking at her underlings, and "servicing" her client, a potential gubernatorial candidate, seemed to be her greatest professional attributes.
Rodney, if you can hear me up there, we know your plight.